Settings for schedules and schedule enforcement are in both the Job configuration area and in the individual employee's profile.
Jobs
In Focus Setup > Employees > Jobs > Timekeeping you can define settings for Local Store Schedules as well as Grace Periods for schedule enforcement.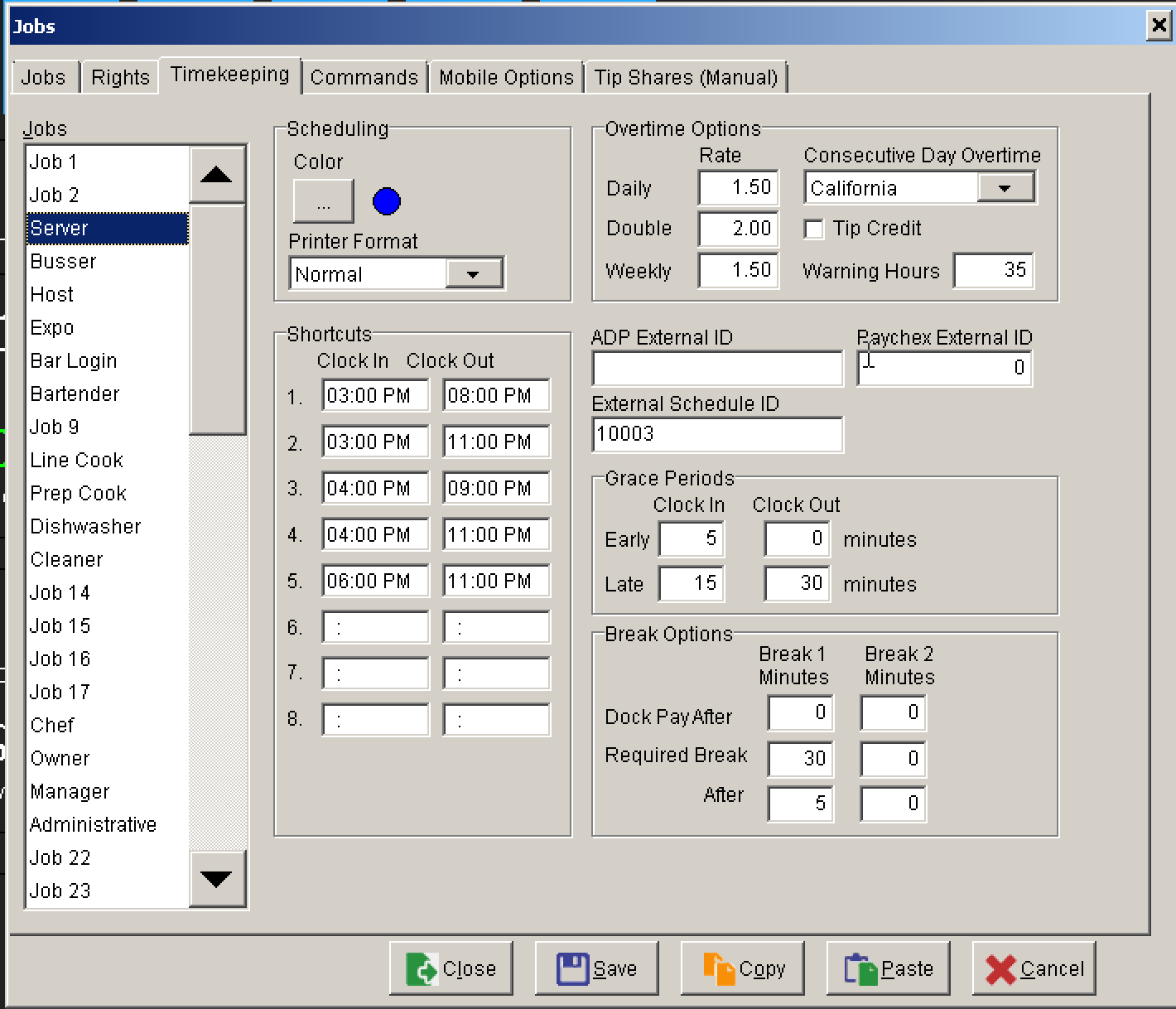 Scheduling
Color: The color of the text display of the scheduled shift for that job.
Printer Format: Controls the text properties when printing a schedule.
Shortcuts
Add up to 8 different shift shortcuts per job. This allows you to quickly add predefined shifts to an employee when building a schedule.
Overtime Options
These rates should be set in accordance with local labor laws. They are used both in schedule calculations as well as payroll reporting.
ADP External ID & Paycheck External ID
These fields are used for third party payroll integrations and are not used for schedules.
External Schedule ID
This ID is used when using a third party scheduling application such as HotSchedules, QSR Online, or CTUIT. Each Job MUST have a unique ID number.
Grace Periods
Control the number of minutes an employee who is being enforced to the schedule can clock in or out early or late.
Break Options
Controls requirements for breaking by Job. This does not affect schedules.
NOTE: Any jobs with the Job Right 'Approve Clocks' turned ON will have access to approve clock in/out and their job will not adhere to schedules even if set to do so in the employee setup. This should only be turned on for management or employees that need this ability or that don't need to adhere to a schedule.
Employees
In Focus Setup > Employees > Employees, you must select the check box Enforce Scheduling for each employee you want to restrict their clocking in and out to the schedule for the current time frame.